Does your underwear drawer look like a nest? Are you able to find your lacy intimates amongst your comfy, full-coverage undies? My closets and drawers looked like gremlins attacked, but thanks to my mom, the ultimate closet organizer, order has been restored. With summer around the corner, there is no time like the present to get yourself organized and here are a few helpful storage devices to get you started.
Don't Get your Knickers in a Knot!
Conquer and divide your underwear drawer with this slotted drawer organizer from the Container Store. It's only $4.99 and will ensure your thongs and granny pants never make contact.
Bathroom Essentials
These little bamboo inserts are perfect for your bathroom drawers. I bought two to organize my makeup and nail polish. You can find these at the Container Store, Bed Bath & Beyond, & most department stores. They start at $6.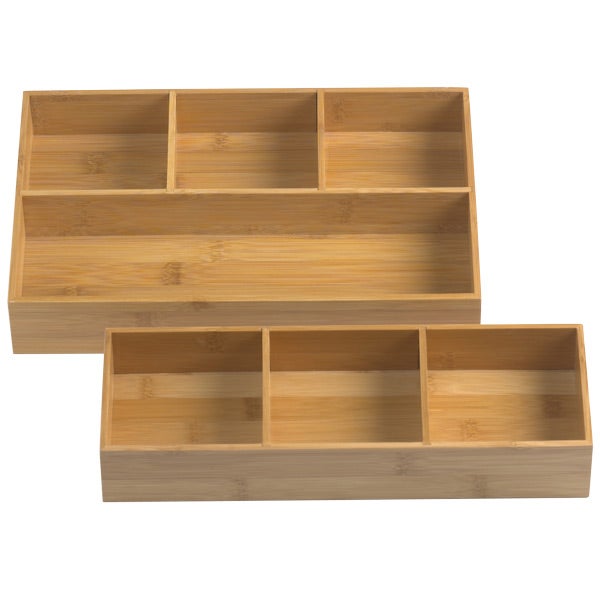 Pack Away the Woolies
The grass is finally starting turn green and you can pack away those bulky sweaters, blankets, and coats ? These space efficient zipper bags fit nicely under your bed, above your closet, or down in your basement. The bags are sealed shut so you don't have to worry about dust or moths. Drop in some cedar ball or bags of dried lavender and they'll smell fresh come fall.  The bags retail at the Container Store for $14.99 and are available at most major department stores.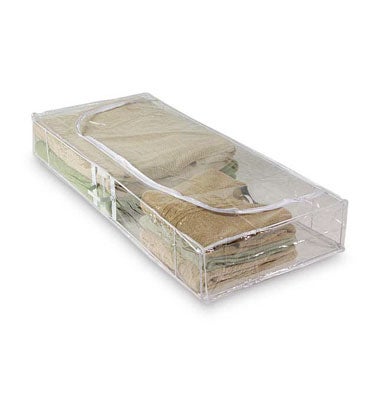 Kitchen Clean Up
I love this photo of a well organized pantry cupboard. This is a photo of the OXO plastic storage system. The containers range from  $8.99 – $24.99. You can also find cheaper glass alternatives if you are plastic free in your kitchen.
Keep your Spices Fresh
My Indian ancestry means that my spice cupboard is exploding with spices. I've found that canning or jam jars are the perfect storage device as they are airtight and easy to label. You can use the large jars for lentils, pasta, flour, and rice.  The small jars start around $12 for a dozen.
Dollar Store Solutions
Your local dollar-store has dozens of containers and wicker baskets that are perfect for the playroom, art supplies, small toys, and knick knacks. I bought some woven baskets to hold my family's snacks. They baskets line up nicely together, so you don't have dozens of plastic bags piled on top of each other.